Choose from eight private bungalows: ocean view, partial ocean view, or garden view bungalows. For larger units with kitchenettes and air conditioning in the bedrooms, select from our two Mango Suites or apartment overlooking the pool. Click on any of the bungalows on the image to the right or scroll down the page to view each unit.
CHILDREN 10 AND UNDER STAY FOR FREE!
* We're sorry but because of our remoteness we are unable to accept credit cards at this time.  Pesos are the best value for purchases at the resort but we do accept US dollars, Travelers Checks or PayPal at 10 pesos to the dollar.  Pets are not permitted at the resort.
Our policies can be viewed here: Hotel Policies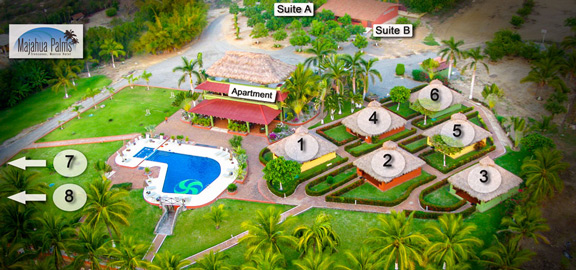 SUMMER MONTHS – LOW SEASON
From May 1 to Oct. 31, Majahua Palms operates as a bed and breakfast.  The restaurant and bar will be closed, however, each booking will include a simple breakfast of eggs or chilaquiles.  Local fruit from our garden will also be available.  We will have ice, cerveza and soda by the six-packs available for purchase. Our suites and apartments have kitchens and we have a limited supply of small refrigerators to rent.  Authentic restaurants are just a short walk down the beach.
Ocean has the closest access to the restaurant and pool with a king and queen bed, private porch with hammock, lounge and two rockers. Includes private bathroom, full closet, fresh drinking water and wall safe. Maximum 4 guests
May 1st – Oct 31st: $99 USD/nt (includes breakfast for two)

Nov 1st – April 30th: $149 USD/nt

Holidays: $189 USD/nt

Christmas: Dec 19th – Jan 3rd (minimum 5 nights Dec 26th – Jan 3rd)

Easter/Semana Santa: March 21st – March 27th (minimum 5 nights)

10% discount when 5 or more nights are booked

Pricing is per couple.  $20/night charge per additional person
CHECK AVAILABILITY & MAKE RESERVATION
Oceanfront bungalow with a king and a queen bed, private porch with hammock, lounge and two rockers. Includes private bathroom, full closet, fresh drinking water and wall safe. Maximum 4 guests
May 1st – Oct 31st: $99 USD/nt (includes breakfast for two)

Nov 1st – April 30th: $149 USD/nt

Holidays: $189 USD/nt

Christmas: Dec 19th – Jan 3rd (minimum 5 nights Dec 26th – Jan 3rd)

Easter/Semana Santa: March 21st – March 27th (minimum 5 nights)

10% discount when 5 or more nights are booked

Pricing is per couple.  $20/night charge per additional person
CHECK AVAILABILITY & MAKE RESERVATION
Oceanfront bungalow with a king and a queen bed, private porch with hammock, lounge and two rockers. Includes private bathroom, full closet, fresh drinking water and wall safe. Maximum 4 guests
May 1st – Oct 31st: $99 USD/nt (includes breakfast for two)

Nov 1st – April 30th: $149 USD/nt

Holidays: $189 USD/nt

Christmas: Dec 19th – Jan 3rd (minimum 5 nights Dec 26th – Jan 3rd)

Easter/Semana Santa: March 21st – March 27th (minimum 5 nights)

10% discount when 5 or more nights are booked

Pricing is per couple.  $20/night charge per additional person
CHECK AVAILABILITY & MAKE RESERVATION
Ocean view bungalow with a king and a queen bed, private porch with hammock, lounge and two rockers. Includes private bathroom, full closet, fresh drinking water and wall safe. Maximum 4 guests
May 1st – Oct 31st: $99 USD/nt (includes breakfast for two)

Nov 1st – April 30th: $129 USD/nt

Holidays: $169 USD/nt

Christmas: Dec 19th – Jan 3rd (minimum 5 nights Dec 26th – Jan 3rd)

Easter/Semana Santa: March 21st – March 27th (minimum 5 nights)

10% discount when 5 or more nights are booked

Pricing is per couple.  $20/night charge per additional person
CHECK AVAILABILITY & MAKE RESERVATION
Ocean view bungalow with a king and a queen bed, private porch with hammock, lounge and two rockers. Includes private bathroom, full closet, fresh drinking water and wall safe. Maximum 4 guests
May 1st – Oct 31st: $99 USD/nt (includes breakfast for two)

Nov 1st – April 30th: $129 USD/nt

Holidays: $169 USD/nt

Christmas: Dec 19th – Jan 3rd (minimum 5 nights Dec 26th – Jan 3rd)

Easter/Semana Santa: March 21st – March 27th (minimum 5 nights)

10% discount when 5 or more nights are booked

Pricing is per couple.  $20/night charge per additional person
CHECK AVAILABILITY & MAKE RESERVATION
Garden view bungalow, close to everything with a king and a queen bed, private porch with hammock, lounge and two rockers. Includes private bathroom, full closet, fresh drinking water and wall safe. Maximum 4 guests
May 1st – Oct 31st: $99 USD/nt (includes breakfast for two)

Nov 1st – April 30th: $109 USD/nt

Holidays: $149 USD/nt

Christmas: Dec 19th – Jan 3rd (minimum 5 nights Dec 26th – Jan 3rd)

Easter/Semana Santa: March 21st – March 27th (minimum 5 nights)

10% discount when 5 or more nights are booked

Pricing is per couple.  $20/night charge per additional person
CHECK AVAILABILITY & MAKE RESERVATION
This oceanfront bungalow has a king bed, private porch with hammock, lounge and two rockers. Includes private bathroom, full closet, fresh drinking water and wall safe. Maximum 2 guests
May 1st – Oct 31st: $99 USD/nt (includes breakfast for two)

Nov 1st – April 30th: $149 USD/nt

Holidays: additional $189 USD/nt

Christmas: Dec 19th – Jan 3rd (minimum 5 nights Dec 26th – Jan 3rd)

Easter/Semana Santa: March 21st – March 27th

10% discount when 5 or more nights are booked (excluding holidays)
CHECK AVAILABILITY & MAKE RESERVATION
Oceanfront bungalow with four queen beds, private porch with hammock, lounge and two rockers. Includes private bathroom, full closet, fresh drinking water and wall safe. Maximum 8 guests
May 1st – Oct 31st: $149 USD/nt (includes breakfast for four)

Nov 1st – April 30th: $199 USD/nt

Holidays: $239 USD/nt

Christmas: Dec 19th – Jan 3rd (minimum 5 nights Dec 26th – Jan 3rd)

Easter/Semana Santa: March 21st – March 27th

10% discount when 5 or more nights are booked

Pricing based on four people.  $20/night charge per additional person
CHECK AVAILABILITY & MAKE RESERVATION
In the mango orchard with peek-a-boo ocean view, king bed, full kitchen, dinette, fold down couch, A/C, lounge and two rockers. Includes private bathroom, full closet, fresh drinking water and wall safe. Maximum 4 guests
May 1st – Oct 31st: $99 USD/nt (includes breakfast for two)

Nov 1st – April 30th: $149 USD/nt

Holidays: $189 USD/nt

Christmas: Dec 19th – Jan 3rd (minimum 5 nights Dec 26th – Jan 3rd)

Easter/Semana Santa: March 21st – March 27th (minimum 5 nights)

10% discount when 5 or more nights are booked

Pricing is per couple.  $20/night charge per additional person
CHECK AVAILABILITY & MAKE RESERVATION
In the mango orchard with a king bed, full kitchen, dinette, fold down couch, A/C, lounge and two rockers. Includes private bathroom, full closet, fresh drinking water and wall safe. Maximum 4 guests
May 1st – Oct 31st: $99 USD/nt (includes breakfast for two)

Nov 1st – April 30th: $149 USD/nt

Holidays: $189 USD/nt

Christmas: Dec 19th – Jan 3rd (minimum 5 nights Dec 26th – Jan 3rd)

Easter/Semana Santa: March 21st – March 27th (minimum 5 nights)

10% discount when 5 or more nights are booked

Pricing is per couple.  $20/night charge per additional person
CHECK AVAILABILITY & MAKE RESERVATION
Spectacular view over pool to ocean, 2 separate air-conditioned bedrooms with king bed and full single sized bunk beds in each. Separate living room, full kitchen, private front porch/deck. Includes private bathroom, full closets, fresh drinking water and wall safe. Maximum 8 guests
May 1st – Oct 31st: $149 USD/nt (includes breakfast for four)

Nov 1st – April 30th: $235 USD/nt

Holidays: $275 USD/nt

Christmas: Dec 19th – Jan 3rd (minimum 5 nights Dec 26th – Jan 3rd)

Easter/Semana Santa: March 21st – March 27th (minimum 5 nights)

10% discount when 5 or more nights are booked

Pricing based on four people.  $20/night charge per additional person
CHECK AVAILABILITY & MAKE RESERVATION